My Make a Garment Plan for December is another Vogue pattern.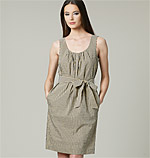 This time it is #1236 a DKNY dress which I thought would be nice for Perth's hot summer months. Of course, not having an original thought in my head, I really wanted to make it in striped seersucker like the cover picture. Naturally I couldn't find any and as I am trying to use only stash material I finished up with a remnant of seersuckery type cotton I picked up at Spotlight a few months ago.
Only problem is pattern calls for 2.2 metres and I have 1.5 metres.
This will require some forward planning.